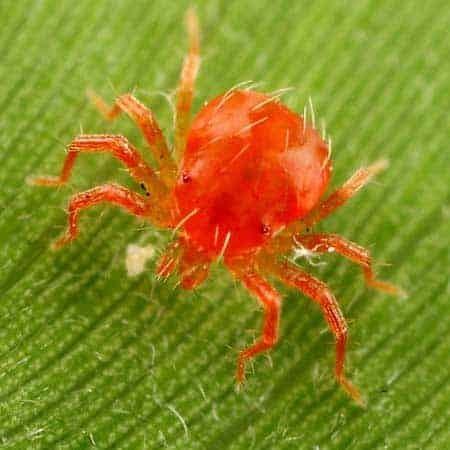 As you may be able to tell by the fact it's only a few days since
my last post
I'm going through a welcome quiet period, so I thought I'd add another feature pest post, and an appropriate one as the weather is (at last) about to turn nice, because this critter loves the sun!
On the right we have an image of a
Red Spider Mite
. Along with
Mealy Bug (that I've already featured)
, the most common pest on office plants, and like Mealy bug very hard to control, let alone eradicate.
Thankfully this photo is not actual size! The mites are - just - visible to the naked eye. To the untrained eye they look like dust or powder.
Much more noticeable is the damage that they cause as they feed on the leaves.
This distinct pale spotting is classic Red Spider Mite damage. Later I'll blog about Thrips, whose damage looks similar, but they are much rarer, so assume it's Red Spider.In extreme cases you'll get fine spider webs in between the leaves but this is quite unusual.
As I mentioned in my preamble, they love sunny positions and need low humidity, so your best weapon is to keep the plant as damp as you can, and wet-wipe the leaves (in particular the undersides where they mostly live), being careful to thoroughly clean said wipe before going near another plant with it, or even better throwing it away. If you can get your hands on an
oily leaf shine product
this seems to keep it in check too.
There are
predators available
too - I've used them successfully on large trees.
Finally, as the leaf damage pattern is permanent, how can you tell if you are keeping the infestation under control? The mites have a distinct gritty feel to them as you rub a finger over the leaf underside, and they will turn a cloth slightly green if you rub it over them.
Jonathan